I just couldn't let Halloween go by without having some fun. Hopefully you will enjoy this as much I did putting it together.
The witch is on her broom
Riding to your house
Out from it's den comes the mouse
The cat is enjoying the sight
Seeing all of your fright...
Five Little Pumpkin Sitting On A Gate

Five little pumpkins sitting on a gate,
The first one said,
"Oh my, it's getting late."
The second one said,
"But we don't care."
The third one said,
"I see witches in the air."
The fourth one said,
"Let's run, and run, and run."
The fifth one said,
"Get ready for some fun."
Then whoosh went the wind,
and out went the lights,
And five little pumpkins rolled out of sight!
Help the witch reach the castle.
Now help the witch get to her friends quickly
She might be on her way to see you!
Spooks
by Sandra Liatsos

There's a goblin at my window,
A monster by my door.
The pumpkin at my table
Keeps on smiling more and more.
There's a ghost who haunts my bedroom,
A witch whose face is green.
They used to be my family,
Till they dressed for Halloween.
Now For Your Treat - Sorry can't hand out candy through the screen so I decided to give you a game that you can play for one hour for free.
Amelia's Cafe - Halloween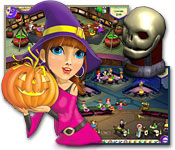 I had fun. Hope you did...
Have a safe and spooky Halloween!!!!!